Two Cold Days in New Hampshire
This looked better on wordpress than substack :(
January. Freshman year. Three days after being rejected by Jane Street.
October. Senior year. A few months after the events of The Pearl.
Toah Nipi. A small Christian retreat center in the forests of New Hampshire.
It's my first time, and It's very new, and There are so many people, and---
I've been here eight times now. I know I'm going to meet with God. He's going to do something big. That's what always happens.
I mostly don't know them, and I get really quiet in crowds, and I don't really know what to expect, and It's all so overwhelming, and---
This is a place God moves. Where I first learned to "really" read the psalms And appreciate a faith that can be angry And scared And doubtful And confused And somehow Still Trusting God.
I was going to work on Wall Street Have you seen how much they pay?
It's obscene.
No. It's okay. I'm going to give some of it away. 10% for God justifies the 90% for me
This is the place I took a leap of faith And listened to God when He said We needed a Social Justice Bible Study And when I stood up To work out the details And ask for prayer Saw Sarah stand up For the same reason. She'd heard from God too.
I didn't get the job. Everything is up in the air.
I'm really not in a good emotional place. I think I'm doing okay at hiding it. But Romeo and Juliet is maybe not the best play to be in When you're trying to deal with rejection and death
So what comes next?
At least, that's the sanitized version The reasonable-sounding explanation The one I tell other people And sometimes myself Because it sounds good. And I don't have to admit That I'm just really bitter right now And I don't know why.
God sat with me here As I Facebook-stalked Every member of the Shakespeare Ensemble For any hint of people Who might want to join a prayer group And together God and I sent The scariest fb message I've ever sent and I prayed as hard As I ever had that This was really going to work.
Two hours of silence. Is a long time. But here we are.
I hate sitting still. I do everything I can think of.
I pray. I read Colossians. I pray. I read parts of Isaiah. I pray.
I think about the future. What am I supposed to do with my summer now?
I ask God.
He doesn't say. I read more of Isaiah.
Isaiah's really long.
I'm not very good at sitting still, so
I escape to the woods to be alone.
And to wait for God to reach out.
But I'm not seeking God. Just those warm fuzzy feelings You sometimes get when you pray
And if I say the right words, then I'm sure that God will show up And give me what I want
There's no sacrifice. No need for hard choices No need for heart changes No deeply-held beliefs to confront
I just want to keep living my life With a little bit of God Just when I want him To top it all off.
It's snowing.
It's so cold that it hurts And the wind is screaming And the trees around me are thrashing and cracking And clumps of snow are flying off their branches And blasting me in the face with flurry after flurry
And the sheer force and scale of it all is just so overwhelmingly beautiful.
I stop to pick up a leaf. There's a distinct "M" on it. Like someone stopped to write on it. Like God Himself stooped down to write on the leaf.
This was the message I was waiting for.
It's a bit of a stretch. But sometimes God works in ridiculous ways. And I'll take what I can get.
There's a feeling that's hard to hold on to. Where God feels just big He's pelting you with snowballs The trees around you are roaring
And for the briefest of moments You catch a glimpse of God Himself.
The King of The Universe. Awesome in power and might. Whose voice breaks the oaks And strips the forests bare As angels tremble and Fall down before Him
I pick up three more leaves.
Sure enough, they each have letters.
I photograph them, just to be sure.
[gallery ids="3538,3537,3536,3535" type="rectangular"]
Spelling out "MOYVT", I guess.
Sometimes it's not God.
And, just for a second, it all feels absurd.
This God This Heavenly King Infinite in Power and Wisdom
Wants to hear from me? More than that, loves me. He loves me enough to make the world. He loves me enough to come down and die. He loves me enough that he wants a relationship?
I don't understand it I don't even not understand it It's just too big to process It ought to be powerful It ought to be deep But I can't get myself to perceive it.
Please, God. Show me.
I'm just hoping God will love me. It's not a lot to ask for. At least, that's what I'll tell myself.
But everything about it is a lie A damning, dangerous lie
A lie that says "God just wants me to be happy" "If God really loved me, he'd let me _______" "If I want something deeply enough, it must be good"
A lie that mistakes nice feelings for God A lie that mistakes my happiness for Good. A lie that mistakes good intentions for prayer
A lie that says I define what's right. And God had better step in line.
I look up. The sky is gleaming white.
Not in a miraculous way --- Just a razor-thin sheet of clouds Illuminated by a hidden sun
And yet Inexplicably Another cloud A giant gray heart Invades the waxen canvas With unmistakable speed and brazen intent
A hundred excuses.
It's just a cloud. It's probably a coincidence This doesn't make sense This is impossible Maybe I'm reading too much into it Miracles don't happen. Well, they do, but not in real life. Or at the very least not to me. I'm not holy enough.
A thousand questions.
Why? Why would God do this? Aren't there more important things to do? Why waste a miracle on this? What does this even mean? What if it was just a coincidence? Does it even matter? Why? Why? Why?
No answers.
But it's there. It's too big to ignore. Moving too quickly to be natural. And too well-defined to be a coincidence.
It's gotten really cold. And I took a wrong turn somewhere And honestly I have no idea where I am
The trees are mostly dead or dying Like some sort of desolate hellscape. A particularly heavy-handed piece of symbolism.
But it's real. And honestly it's kind of nice To see your heart laid bare To stand and to freeze And yell into an empty wasteland Until your face is too numb to go on Your throat too raw to make a sound But still you go, running and shouting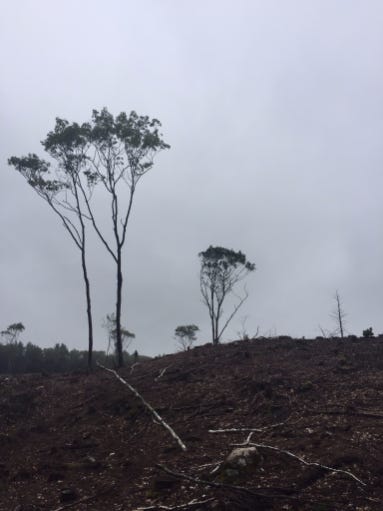 The words aren't holy. Some of them are hurtful. Some of them are profane.
I tell God I'm angry. And I tell God what I want. Some of the desires are evil. Some of my anger is sinful. And the way I say it is disrespectful. And presumptuous. And prideful.
But I don't get struck by lightning. I don't get burned with fire. Of all the things God could do. All the things I would do if I were him That he'd have every right to---
And eventually all you can do is Fall to your knees and cry out Who is this God?
Silence. Nothing at all.
It's hard to process There's a lot of happiness And you feel very loved And you feel very grateful
But there's also a strong element that's just---
Guilt?
It's hard to explain. Especially when we're so Afraid of legalism that we almost Want to explain away good and evil As merely matters of convention Or historical context
But you see God And he's clothed in righteousness And you see how loving and good he is
And then you see yourself.
And you're not.
That's all it is. There's no miracle today.
Lord Jesus Christ, Son of God Have mercy on me, a sinner.
Sometimes God is quiet. And you stay angry. And that's okay.
Forgive me my trespasses as I Forgive those who trespass against me.
And sometimes there's nothing to do but wait And in the meantime you try to stay faithful And do what you can to do what's right And it's hard and it's painful But it's okay.
Create in me a pure heart, O God Renew a steadfast spirit within me
And sometimes all you can do is shout at God On some level you know you're wrong But you just want to be heard And that's okay, too. God can take it.
Can you forgive me, God?
But it doesn't last forever.
I look up again. The heart is gone. In its place sit two lonely letters.
If there's one thing I can say With certainty about a God who's Still with me after all these years And everything I've done
"OK"
It's that the Lord is faithful And he doesn't give up on you
And, even for just a moment,
Even to the ends of the earth.
Everything is.
---
Epilogue:
I work up the courage tell my friends And, to my surprise They believe me. I find my way back to the main cabin And the next day I'm on a bus rid home. A leader asks my about my summer plans And invites me on a missions trip And, to my surprise I say yes.
Two of my friends from home Drop in the next morning for a surprise visit. It wasn't meant to be a surprise I think I just forgot
There's a lot of criticism of missions trips For a lot of good reasons. But I learned a lot. I grew a lot. I changed a lot. Things are complicated. Eventually I hear from God again. And a little bit at a time I learn to love him more. To worship him more deeply. And things get better.