Is Depression a Good Thing?
It isn't, but maybe there's a tiny silver lining.
HOT TAKE: No. Depression is a bad thing.
That said, it's complicated.
(Content warning: mental health, finances, see disclaimer here)
(EDITED TO ADD: this post contains a fair amount of personal guilt-tripping over finances and in particular over donating/not donating more to charity. In addition, I want to be really clear that this is me trying to understand and work with my depression and how it feels, and since depression affects different people very differently this may or may not be similar to how you or a loved one is experiencing depression. In particular, when I write "you" I mean "here's how I feel/felt", not "here's how you should be feeling" or "here's how all depressed people feel.")
------------------------
It's cliche to say the world isn't black-and-white, and everyone knows depression takes the color out of things, so that means you're left seeing life in various shades of gray.
And that's a different point of view.
To be clear, it's a terrible one. It's ugly and it's hateful and self-pitying and it makes you see the worst in people and fixate on fears and hopes that'll never be true and all your relationships feel kind of strained and it's probably your fault and okay we started to spiral a bit at the end there but you get the point.
But it is a point of view. And even if it distorts a lot, maybe there are some things it helps to illuminate.
For example: do you do good things for their own sake, or because you want people to like you? Are you sincerely trying to be a better person, or just lying to yourself to hide your pathological need for attention? Are the two even distinguishable?
Oh. They are.
Because it turns out there's a specific part of your mind that's capable of perceiving the idea that maybe, just maybe, other people care about you. Maybe they think about you sometimes. Maybe they even like you.
And it turns out that part of your mind can go away. And you're left with ... well, whatever's left when you lose that.
And you can see the truth was somewhere in between. There were a lot of things you did for selfish reasons. You do care too much what other people think. But there were also things you still did even though you felt like you'd never matter to anybody. And that sucks and it's not a healthy way to feel but still you learned something and you're kind of proud of yourself.
That's how depressed brain goes.
---Do you struggle with pride? Having trouble perceiving your need for God's mercy? Here, try a dash of "hating yourself."
---Do you over-value efficiency? Do you place too much of your self-worth in what you can do? Take three weeks of "paralyzing anxiety" with a dose of "no motivation." Better get over it quick or you're in for a rough time!
---A misplaced sense of independence? Trouble accepting help from people? Boy, do I have the thing for you! You're gonna need your friends to get through this, and it will definitely burden them. And you'll feel like you forced them to go out of their way to help you and that's ruining their life and it's your fault. And that's not better but at least you did ask for help and that was a big step for you.
Sure, it's unhealthy and terrible. The good doesn't outweigh the bad and I'm not trying to imply it does. But feeling like there's some good somewhere in there makes it a hell of a lot easier to get through.
(Aside: there's a somewhat insidious failure mode of this way of thinking: instead of "God can make good come out of terrible situations," it becomes "the situation isn't actually terrible, I need to see why it's 'really' a good thing", which becomes "everything is perfect and it's my fault that I'm unhappy." It sounds dumb now that I type it, but operating on an unspoken subconscious level it can be terribly convincing.)
------------------------
Depression takes your decent, comfortable life and says everything is terrible.
But there are also things in the world that legitimately are terrible.
And for some reason we as a society have just kind of agreed not to talk about them and pretend they don't exist. We pretend there's no wars and our country isn't bombing innocent people. We pretend no one's starving and no one's locked in prison camps. And we can pretend there's no sweatshops and we can pretend there's no malaria and we can pretend it's far away and we can pretend there's nothing we can do but it's not and there is.
I don't want to repeat myself over and over but AMF saves lives at a rate of five dollars per month of life. And I know there's more to justice than saving lives and morality is complicated, but AMF saves lives at a rate of five dollars per month of life.
Five dollars per month of life.
And yet, over and over, we take that choice lightly.
I've spent more than five dollars on things I didn't need. I've spent more than five dollars on things I didn't really even want. I've spent more than five dollars because I felt like it would be too awkward not to buy something with everyone else.
Put another way, I valued not feeling vaguely awkward over an entire month of somebody else's life.
And I didn't feel bad about it. Because society lets us feel that way and lets us value our own comfort and pleasure over real-life people whose lives our choices have serious consequences for.
And that should really bother us.
The problem isn't just "over there somewhere" --- it's here
The problem isn't just malicious choices and bad actors --- it's people getting hurt by our indifference
And it's not just the super-rich buying yachts and planes --- it's you and me visiting friends and watching movies. It's going out to lunch after church. It's paying a little extra for a nice apartment. It's extra boxes of cereal and books I never got around to reading and vegetables I never got around to eating.
It's not my fault
I'm depressed.
So obviously there's nothing I can do.
------------------------
One of the classic symptoms of depression is you don't want to do stuff. In my experience this is actually a collection of distinct symptoms that are all easiest to describe using the words "I don't want to do stuff", but in one form it's kinda like this: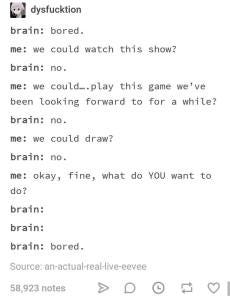 or maybe like this. (Long but good!)
Conversely, one of the reasons it's so easy to spend money is that you do want to do stuff. I want to see all the Marvel movies and also have popcorn at them. I want Domino's. I want to go out to eat with my friends.
One way to look at this is to say "the only moral choice is to not spend any money on ourselves" and live on literally the bare minimum.
And honestly I find this perspective tempting. It is hard to justify spending any money on yourself that could be better used. It probably is immoral. We probably should give away almost everything we have.
But if you're like me, you think this And you nod a little to yourself And you say "yup, we should" And you don't do anything And nothing ever changes.
But there's another approach, one that's maybe a small compromise but also lets you actually help people without burning out. And that's to switch focus from perfection to simply getting better.
I don't know how real people budget, but I split my budget into a set of categories. Some of these, like "Gifts" and "Travel", roll over from month-to-month (turns out I buy more gifts in December than March). Others, like "Food" and "Entertainment", don't need to: if I've budgeted enough for food and my employment is stable, I don't need the $10 I didn't spend last month because now I have enough new money to buy a month of food.
It ought to be a social norm to automatically donate whatever's left in these categories to an effective charity of some sort. (Like AMF, which you may have heard saves lives at a rate of five dollars per month of life.) This makes it fairly straightforward to have an effect: I may not be able to give up watching all movies, but if I skip just this one there's $10 that'll go to saving lives. I don't want to give up meat entirely, but if just for this meal I have beans instead, then that's maybe $2-3 more malaria nets. (AKA 15ish days of life for somebody!)
And sure, each individual dollar amount is fairly small.
But the conversion rate is so extreme
That it can add up to a surprisingly large impact.
But you still have to actually give things up.
And depression has made this easier. There's no temptation to buy the $15 cheeseburger if you'll be just as happy with a bowl of oatmeal at home. Or to go to Subway when you could have oatmeal. Or to see a comedy show when you could eat oatmeal. (I'm trying to replace "oatmeal" with "cheap vegetables", but that's a different story.)
And the social pressures change too. This weekend I went to a fancy restaurant and only ordered lemonade. Because it suddenly didn't feel awkward? Because I realized that the moral issues at stake were so extreme that they dwarfed any societal mandates?
Of course not. I felt anxious and out of place. But right now I always feel anxious and out of place. So one lemonade wasn't going to change anything. And I was free to make a good decision.
I wouldn't say depression makes doing the right thing easier. It just makes doing the wrong thing harder.
---It's less like "wow, plain oatmeal is wonderful!" and more like "oh. everything feels like plain oatmeal."
----It's less like "I've moved beyond the need for feel-good movies" and more like "I wish feel-good movies still made me feel good"
---And it's less like "I now care deeply about altruism" and more like "I'm not sure I care about anything anymore"
But at least this way I feel like depression is doing something. And overall I'm not great at generosity. So if this makes me even a little bit better, then that's a little bit of a blessing.
Even if everything else sucks.
------------------------------
APPENDIX
The last part of this post is more speculative and sketchy, but I think I'm so privileged and global inequality is so BIG that you could make a utilitarian argument that my depression is a net positive. Sketching this will be the rest of the post, so if you don't enjoy recklessly throwing around numbers this is a good point to go do something else.
(For the sake of calculations, we'll have to assume that a) depression won't have any effect on my future salary and b) the habits I make during depression also won't have any effect on my future spending/giving. Those are both big assumptions but let's assume they cancel each out because meh why not.)
To define "worth it," we need a way of comparing the effect depression has on my life with the effect donations could have on other people's lives. This is clearly absurd, but fortunately the field of economics is also absurd and there's a ready-made tool in the form of Quality-Adjusted Life-Years (QALYs). 1 QALY is equal to one year of healthy, adult life, and QALYs can be reduced either by making life shorter or more unpleasant.
Using the internet, I determined that Major Depressive Disorder (aka clinical depression) reduced QALYs in the elderly by 65%. I probably should have found a study with younger people, but this was the first google result (see "not wanting to do stuff", above.)
My depression, of course, doesn't just affect me - there are definitely effects on people around me who worry, or have to make extra efforts to include me, or have to listen to me complain or read my blog posts, etc. etc. etc. I'm guessing the sum of these effects probably doesn't exceed .35 QALY's/ year, which (added to the previous number) gives us a "total cost" of 1 QALY/year.
So the question becomes: does depression mean I can donate at least $100 more per year?
Yes! But it's not quite that simple. There are also costs: my prozac prescription costs $5 / month. If I go back to therapy, that'll cost about $10 / week. So that's a total cost of $580 / year. (Wait, depression is expensive!) So we actually need to get to about $680 / year.
Most days, I go to Subway for lunch, and get the cheapest meal deal, which costs $6.60 including tax. But when depression brain is in charge, I occasionally go "mehhhhhh" and have plain oatmeal instead, which probably costs about $.60. I estimate this happens 1-2 times per week.
I also have a $45 / week budget for "whatever", which includes everything from restaurants to movies to house supplies and toilet paper to clothing (I'm not good at budgeting.) This is harder to quantify, but looking at the past few weeks I think depression saves me at least $10 / week out of this budget.
So we're saving a total of $20ish per week, or around $1000ish per year!
That's a net gain of $300ish/year, or about 3 QALY's. In particular, 3 > 0, so if we replace any actual value system with mindless calculations, the answer to this post becomes "no, depression is a bad thing, but the good appears to outweigh the bad in this case."
I dunno how I feel about this.
I guess I don't really have to decide.
The end.